GRAND OPENING
EXCALIBUR Club Privé
---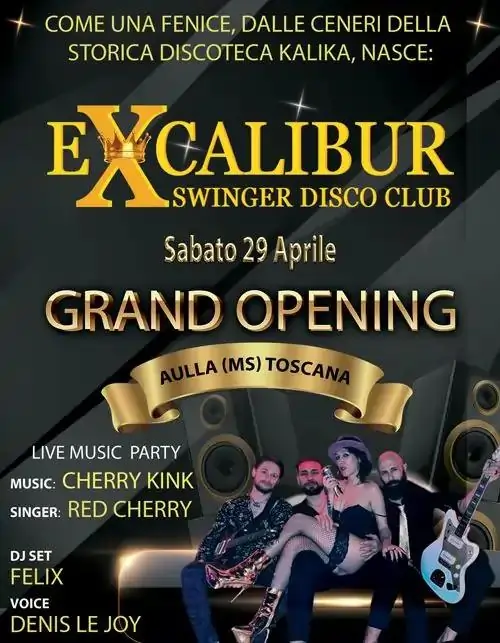 GRAND OPENING
SATURDAY
29/04/2023
From 22.00 onwards
Saturday 29th April from 10.00 pm onwards at Aulla MS Toscana
GRAND OPENING
Like a phoenix, from the ashes of the historic Kalika discoclub
Excalibur swinger disco club
was born: 1,200 square meters where you can let yourself go and freely experience socio-cultural aggregation.
We are waiting for you for the opening night, a night of live music by the "Cherry Kink Band" and the extraordinary voice of "Red Cherry": their erotic sound will warm you up and make you go wild.
They will alternate with DJ Felix and "the voice" Denis le Joy.
Available to all members, an hot and cold buffet, excellent cocktails and drinks served by qualified staff plus, of course, cake and bubbles a gò gò.
On the occasion of the grand opening, all people who book by sending an email to
info@clubprivetoscana.com
and register online for the membership, the annual registration will be free and they will be able to take advantage of a reduced fee for participation in the event.
Mark the appointment in your diary and tell your friends from the swinger world, all together for a special evening.
Don't miss the opportunity to say... I was there!
Dress Code: elegance is welcome.
Paul & Lyuba
All information on this site is intended for members of the Excalibur Private Club and those who wish to join.
The same should be considered as non-advertising but informative information.
Law 7th of December 2000 n.383 published on "Gazzetta Ufficiale"