WELCOME!
Like a phoenix, "EXCALIBUR Swinger Disco Club" was born from the ashes of the historic disco club that was named BOOMERANG, GLAMOUR, KALIKA in the past.
A private club where you can let yourself go, freeing your libertine Alter Ego to experience moments of sociocultural aggregation in complete freedom.
"EXCALIBUR Swinger Disco Club": enjoy a transgressively happy life!
We will be happy to get to know you and we will be ready to answer your questions to put you in a position to be able to choose with awareness whether to become part of our community. New, unforgettable event for December 16, 2023
On the occasion of Lyuba's birthday, we have prepared a unique event for all of you which will involve swingers from Milan/Monza, Tuscany and Liguria.
All the details of this spicy initiative on this page:Happy Birthday Lyuba.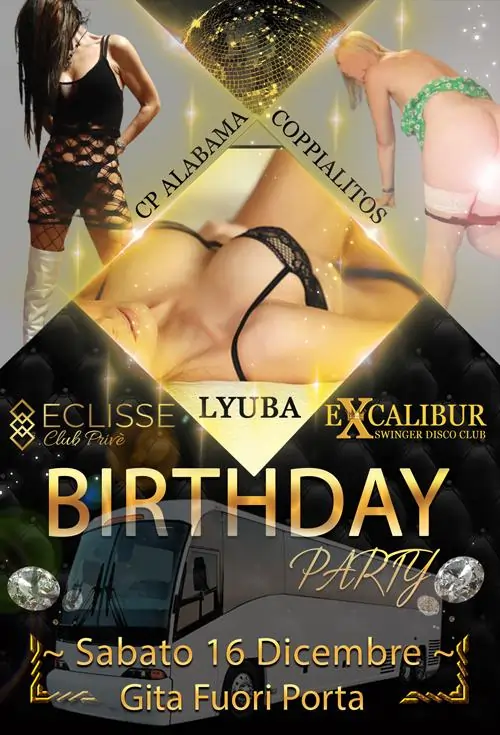 WHO WE ARE
"EXCALIBUR Swinger Disco Club" is a private club oriented to people in the swinger community who wish to attend and get to know a community of people who think and live like them.
This is a swinger private club where you can spend transgressive playful moments, sipping excellent drinks, nibble on a snack from the buffet, available to all members, hit the dance floor to dance by the music of a DJ set and then close the evening in the private area.
EVENTS
You can also find out about all our events on our social networks or you can subscribe to our channels Twitter, Whatsapp or Telegram to receive up-to-date information. Openings for November 2023
During the month of November 2023, Excalibur swinger disco club privé will be open on Fridays and Saturdays evenings from 22.00 until late at night.
See the calendar of our hot events on this page. DRESS CODE
We don't feel like imposing a style on anyone, but we would be delighted if singles wore a nice shirt and women wore sexy, intriguing clothing including, ça va sans dire, heels!!
For themed evenings, we kindly ask you to wear themed outfit.
OUR LOCATION
The club was structured in the headquarters of the historic disco that has hosted the most famous Italian artists over the years; a structure of about 1,200 covered square meters as well as an outdoor area of about 250 square meters and a garden.
Furthermore, the club has a private and reserved parking area of about 3,000 square meters at the exclusive disposal of members.
A very comfortable dedicated area will be able to accommodate campers and caravans with the possibility of connection to the electricity and water mains for loading clear water.
An important location, with all the prerequisites for spending transgressive moments in company, an elegant, familiar and very welcoming club where you can share very HOT experiences.
Photos of the Excalibur club can be found in the site photogallery.
Videos of the disco club can be found in our video gallery.
WHERE WE ARE
The headquarters of the swinger discoclub are located in Via Camposagna, 68, 54016 Terrarossa (MS).
We are less than 4 km from the Aulla (MS) motorway exit on the A15, in the heart of Lunigiana, a land with breathtaking landscapes, food and wine of the highest quality, about twenty minutes from Versilia and a few minutes from the sea.
Map to get to us can be found here.
We have prepared a link for you to get the directions with Waze
We have prepared a link for you to get the directions with GoogleMaps You can also find us at IOL.im where you will get a promo if you sign up from this link.
The promo is reserved for singles and couples, and entitles you to 6 months free; a further six months will be added if those registered through the promo have a validation with a couple already validated by other couples. We are present on Annunci69.it
Excalibur Swinger Disco Club We are actively present on JOYclub – real international swingers community.
Our page on JoyClub is : Excalibur Swinger disco club privé. We are in partnership with the largest libertine community in the world: SDC.com.
To mark the occasion, we're offering you 30 days of unlimited free account on SDC.com when you sign up using our promo code 37096 or just by clicking on the picture below.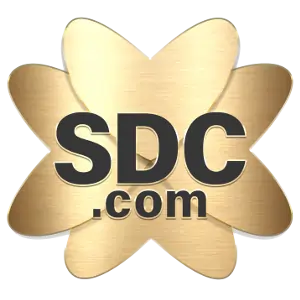 EXCALIBUR swinger disco club is open to partnerships with Italian and international swinger communities, large or small ones, of any kind.
Get involved, dare and reap the fruit of transgression by participating in events, parties and evenings that will be unforgettable.
Contact couples, singles or singles, with discretion and confidentiality, on the social networks dedicated to the awesome swinger world and follow your desires.
Remember our motto is:

FREE to BE, FREE to DARE We also have a presence on all the main swinger-oriented social networks:
Annunci69.it
You can also find us in
JOYclub
Swinger24.it
IOL.im
TheCuckold.com
SDC.com All information on this site is intended for members of the Excalibur Private Club and those who wish to join.
The same should be considered as non-advertising but informative information.
Law 7th of December 2000 n.383 published on "Gazzetta Ufficiale"