Sunday Party Day
EXCALIBUR Club Privé
---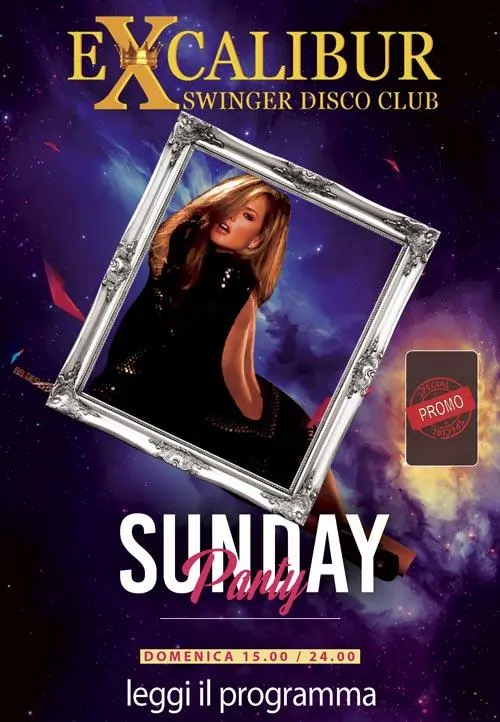 Sunday Party Day


SUNDAY
27/08/2023

Have you ever been to us?

Do you have doubts or questions?

Do you think that the Swinger Club might not reach your standards and you don't feel like risking a useless membership in a club which you won't attend?

Come and visit us!!

On Sundays from 15.00 to 18.00 it will be a pleasure to welcome you to introduce you to the club.

Only later with the awareness of those who know, you will decide whether to join us for future visits and possibly decide to stop for an aperitif and meet new associates.

----------------------
Acquaintance aperitif:

From 19.00 to 24.00 the swingerclub provides the location for a cognitive "Apericena" but not only.

I believe that everyone had an appointment with couples or singles to deepen new knowledge and to evaluate a possible swinger relation.

The question is always the same; where can we meet?

Simple answer: at Excalibur

You can have a drink, take advantage of the buffet for you, have a chat without having to worry about prying ears and... if there is good chemistry, you will only have to take advantage of the privé area with no need to drive for kilometers with the risk to be disappointed.

From 15.00 to 18.00:
couples and single guests
trans and trav 10 euros
singles 60 euros

from 19.00 aperitif
--------------------------------------------

The club is open from 15.00 to 24.00
--------------------
Available to members only:

cocktail bar, dressing room for changing dress, large room for meetings and discussions, disco area, large and spacious rooms with adjoining cinema room, a small photographic set, an outdoor area, a smoking area and a large, private and fenced free car park with an nearby area for campers and caravans.

All information on this site is intended for members of the Excalibur Private Club and those who wish to join.

The same should be considered as non-advertising but informative information.

Law 7th of December 2000 n.383 published on "Gazzetta Ufficiale"