Red Party Night
EXCALIBUR Club Privé
---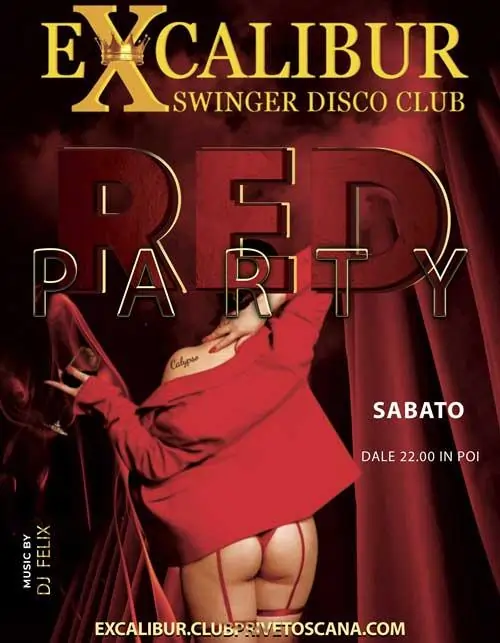 Red Party Night


SATURDAY
23/09/2023
From 22.00 onwards

Sexy Red Party!

Are you ready for a fiery and sensual evening that will make you feel like stars?

Get ready to put on your most provocative red oitfit and enter a world of lust and passion, a fiery atmosphere with red lights and seductive music that will make you lose yourself in passion.

Many spaces to dance and socialize with like-minded people.

Moments of intimacy and connection with people who share your lifestyle.

Dress code of the party: red with sexy and elegant shades.

Let your imagination run free and choose the red outfit that best suits you.

Be ready for an unforgettable evening of red, passion and eroticism.

At the Sexy Red Party, love is the color of the night!

All information on this site is intended for members of the Excalibur Private Club and those who wish to join.

The same should be considered as non-advertising but informative information.

Law 7th of December 2000 n.383 published on "Gazzetta Ufficiale"