Ageless Party: When Youth Meets Time
EXCALIBUR Club Privé
---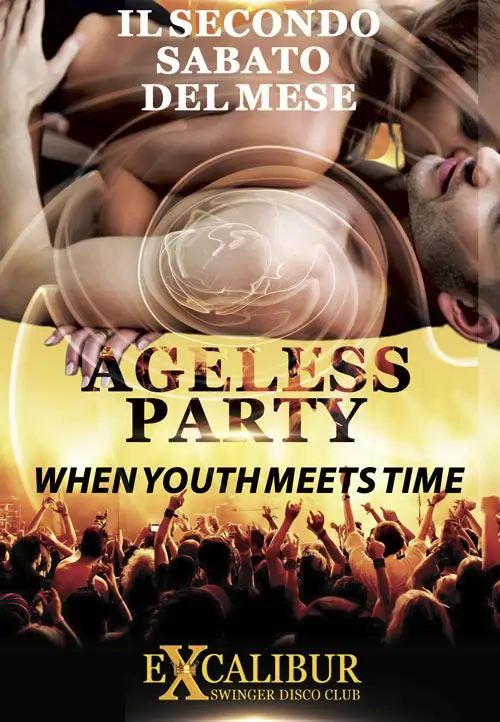 Ageless Party: When Youth Meets Time


SATURDAY
11/11/2023
From 22.00 onwards

Date: Saturday 11 November 2023 from 10.00 pm onwards

Location: Excalibur Swinger disco club via Camposagna 64 Terrarossa MS

Come to Excalibur Club for an unforgettable evening.
"Ageless Party: When Youth Meets Time" is the ultimate celebration that transcends generations.

Whether you're in your 20s or 70s, this is where you need to be.

Eclectic Music: A diverse blend of musical genres that satisfies every taste, from the latest hits to timeless classics.

A show with you as the protagonists: you can put on a performance by letting loose in the dance, with a strip-tease or... an interactive performance. Let yourself go as if no one is watching and you will be part of the show. This evening, you will be the protagonists!

Cocktails: delicious drinks to delight your taste.

Relaxation Area and Games Area: a serene space to socialize and relax.

This event is open to all young people, we do not mean registered age, that's just a number, but the spirit with which one lives one's age. The only requirement is to bring enthusiasm and an open mind to celebrate together, so no matter how old you have turned or will turn. Everyone is welcome!

Come with friends or alone; you will find a warm and inclusive environment where you can connect with people of all ages, share stories and create unforgettable memories.

Join us at "Ageless Party: When Youth Meets Age" and let your youthful spirit shine, regardless of your chronological age. Let music, fun and diversity unite you in a unique experience..

Come and let's celebrate the eternity of youth together, with you as the star of the show!

All information on this site is intended for members of the Excalibur Private Club and those who wish to join.

The same should be considered as non-advertising but informative information.

Law 7th of December 2000 n.383 published on "Gazzetta Ufficiale"