Happy Birthday Lyuba... e non sarà sola!
EXCALIBUR Club Privé
---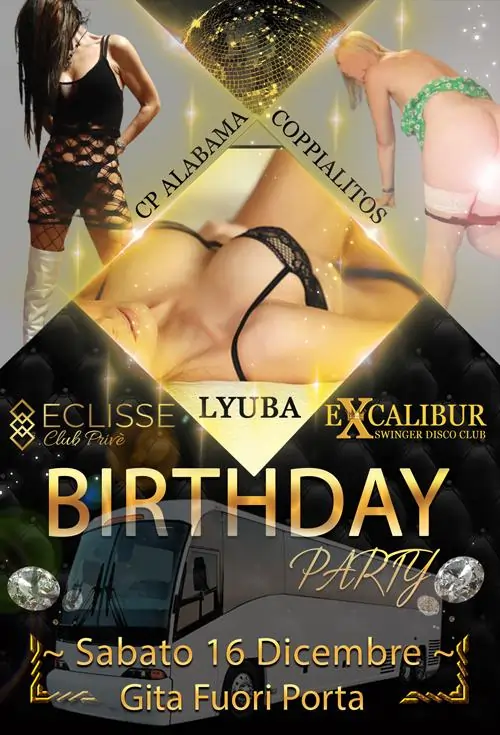 Happy Birthday Lyuba... e non sarà sola!


SATURDAY
16/12/2023
From 22.00 onwards

Happy Birthday Lyuba and couples Alabama69 and Coppialitos

An extraordinary event is approaching!
We are about to celebrate three special birthdays in one unforgettable party.

Dates: December 16th
Time: Starting from 10pm
Location: Club Excalibur Headquarters in Aulla, MS in Tuscany

In collaboration with the Eclisse Club of Monza, we invite you to participate in a party that will be held in the heart of Lunigiana, in Tuscany and will transform into a magical night.

The Eclisse Club will provide its members with a coach for the transfer from Monza to the Excalibur Club.

The bus will leave Monza at 8.00pm to ensure everyone arrives in time for the start of the celebrations.

Program of the evening:

At 10.30pm we will meet at the Excalibur Club headquarters, where the party will begin with music, dancing and endless fun!

At midnight we will raise our glasses to toast the birthdays of three special people: My sweetheart Lyuba, and her couples Alabama69 and Coppialitos.

Available to all members is a Grand Buffet, sparkling wine and three delicious cakes just waiting for you to cut!

Your presence will be the most precious gift that the splendid ladies could wish for.

We can't wait to share this special night with you and all our friends who will be attending.

Put on your brightest smile and get ready for a night of celebration, friendship and joy and lots of it...

We are waiting for you!!

Paolo & Lyuba

All information on this site is intended for members of the Excalibur Private Club and those who wish to join.

The same should be considered as non-advertising but informative information.

Law 7th of December 2000 n.383 published on "Gazzetta Ufficiale"